Whatever you are looking forward to, Flatbed Towing? We got it! In addition, we can also help you if you need a tow dolly or need of accident removal service. Moreover, if you need to move your car or car parts to a junkyard, you can always depend on our services:
s

24 Hour Car Towing Service Providing you with top notch services, we offer 24-hour car towing service to get you on the go in an instance.

s

Cheap Towing Service Stuck somewhere but don't have the money for a premium service? Don't worry we won't cost you a fortune with our Cheap Towing Service.

s

Emergency Towing Service Your car broke down? Or worse, you have had an accident? Whatever it is, we are here to serve you with our car accident emergency towing service

s

Jump Start Car Service Your car broke down right in the middle of the road? We will help you to get out of this by Jump starting your car.

s

Car Battery Service Instant Battery change allows you to fire up your car engine once more and get back on track of your journey, all in an affordable price.

s

24 Hours Tyre Service We provide you same day Tyre Replacement Service to get you on the go despite wherever you are stuck.

s

Motorcylce Towing Service Our Motorcycle Towing Service gets you bailed out wherever you are stuck. We make sure that your bike remains spotless

s

Gas Delivery We provide roadside assistance by providing Emergency Gas Delivery Service and get you on the go in an instance.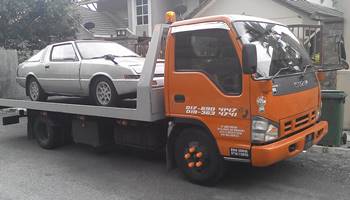 f

About Us

Auto Mobiles are Machines and just like any of them; they can too breakdown! However, if your car has a breakdown in the middle of nowhere or you can't get it moving, don't panic. Just call Car Towing Service in Kuala Lumpur. Call us and we will dispatch a unit to your location to get you vehicle towed. Whatever the circumstances are, you can depend on us!Cheap Car Towing Services in Kuala Lumpur.
Towing Service KL - Cheap Car Towing Services in Kuala Lumpur