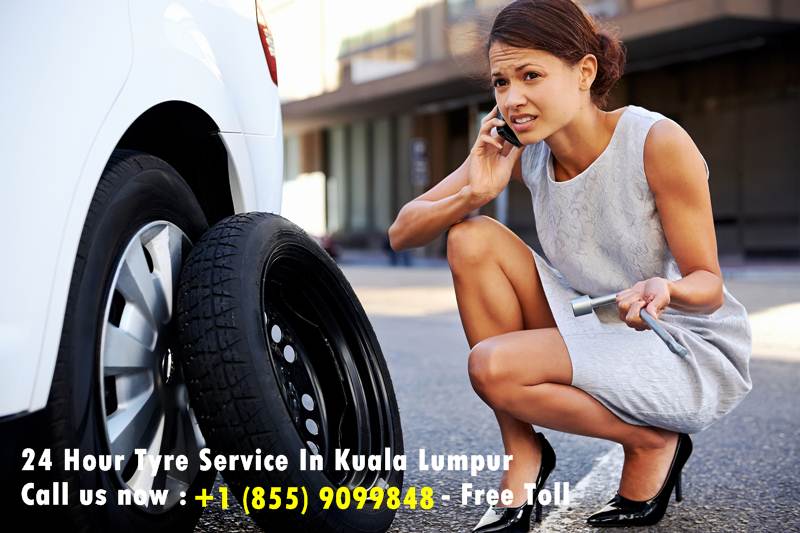 At Kuala Lumpur Malaysia, we are well aware of the fact that your time is valuable and, therefore, we provide you 24-hour tyre breakdown service. Whatever your case is, emergency breakdown or you don't have space, just let us know and we will accommodate your needs. We pride ourselves for being the best 24-hour tyre shop in the area. We provide our services to all private motorists, now you won't have to be stuck on theside of theroad for hours, we are only a phone call away from you. Our broad range of tyres and wheels are supplied, fitted and balanced right according to your preferences.
Our service fleet is equipped with the latest gear that covers the greater area of Kuala Lumpur by providing the following:
Tyre Changing Services
Tyre Changing Machines which are suitable for every type of tyres
Digital Wheel Balancing
Pneumatic air jacks that offer protection for your vehicle even during the replacement
Emergency Breakdown Services
We service all types of vehicles. Whenever you run into aproblem with your tyres, let us know and our team will be there to serve you ASAP, our services are available for the following types of vehicles.
When you are on the move and an unexpected tyre breakdown is compromising your routine, it can dearly cost your bottom line. The worst part of such breakdowns are these are impossible to predict. To help you out, our instant tyre breakdown service is available throughout the day to help you get back on the go. But why you need us, let the following help you with that:
Peace of Mind
Experienced Technicians
Latest Equipment
Instant Response
For Cost Effective Solution
Kuala Lumpur 24 hours Tyre Service is well experienced for providing tyre supply and service for all kinds of vehicle. What makes us different is we deliver you real value with good products and reduced downtime. We not only help you to get back on track but also help you to save your money and time. If you run into trouble, you can rely on our 24-hour tyre replacement service.
We have fleet arrangements with all major lease companies in the area. We provide better customer service with no problems of time, our 24-hour tyre repair helps you up and running in an instance. We also provide acompetitive cost for tires and our services.